This article will give you a master list of all the free credit cards you should have to maximize your savings. I have chosen one best card from each bank and have also given links to directly reach the bank credit card page so that you can review and apply easily.
Note – Remember to read the Recommended Usage pattern at end of article for maximum savings 🙂
In my previous article on Best Travel Credit Cards, I had recommended following paid credit cards cards for everyone:
American Express Platinum Travel Card
HDFC Regalia
ICICI Coral
Axis Vistara (Note – SBI has also launched this card now with mostly same benefits)
Yes Bank
I had also recommended usage strategy to maximize the benefits out of these cards.
Remember to read my article on Must Have Travel Credit Cards in India in case you missed it
If you have all the cards I recommended in previous article, you must be wondering why I want you to take more cards. The answer is very simple my friend – to help you save more money!
Every time a big sale happens on Amazon / Flipkart / Makemytrip or anywhere else, they offer extra discount on specific credit cards. Same is the case with sale in malls. Sometime, we miss out on this extra discount because of not having that particular credit card.
This is where this article comes to your rescue. I will tell you all the cards you should have and the best way to use them.
Assumptions
We only need 1 credit card of each bank to ensure all banks are covered and we do not miss out on any sale anywhere in India.
We already have the best credit cards (Amex, HDFC, ICICI, Yes and Axis) and know how to maximize savings with them. Hence we will try to take free credit cards of other banks so that we do not have to spend money on them when there is no sale.
I have not considered any benefits on these cards as basic idea is to have them as backup just in case some special offer comes up.
There are few credit cards which are paid / have FD / minimum spend limit to become free. I have included them as last option.
If you see / get Lifetime Free credit card anywhere, just take it without any questions. Will help you in long run.
So without wasting further time, let's get started.
Axis Bank -> My Zone Card
Axis Vistara card was already recommended as Must-Have card. If you have Axis Vistara card, then skip to next section.
Vistara has recently launched SBI Vistara card also which offers pretty much the same benefits as Axis Vistara. If you have not taken Axis Vistara, then go with SBI Vistara and take My Zone Card as the free card from Axis.
No Joining / Annual fees if you maintain a FD of 20K
Benefits –

25% discount on movie ticket
15% discount on select dining restaurants
Click here to apply for Axis Bank card
Bank of Baroda -> Prime Card
No Joining / Annual fees if you maintain FD of 15K
1% cashback on all spends
Click here to apply for Bank of Baroda Credit Card
Citi Bank -> Cash Back Credit Card / First Citizen Citi Credit Card
Cashback Credit Card

Joining / Annual Fees – 500/-
5% cashback on movie, telephone and utility bill payments / 0.5% cashback on everything else. Cashback is capped at max 100/- per month for each category
Get BOGO movie ticket via Paytm app on bookings done every Friday
Click here to apply for Citibank Credit Card and get 1000/- cashback on card activation
HSBC Bank -> Visa Platinum Card
Free Card
Eligibility – Annual Salary > 4 Lakh
Joining Bonus – Get voucher worth 2000/- from Cleartrip and 250/- from Swiggy
BOGO offer on Saturday movie ticket bookings
Click here to apply for HSBC Card
IndusInd Bank -> No Free Credit Cards??
IndusInd Banks Credit Card section is one of the most confusing websites I have browsed. There is no clarity on the charges for various credit cards. There is no place to apply for the card. Website gives a customer care number to apply. But when I tried calling them, automated response ended the call saying please apply via website.
I have left a message showing my interest to get a credit card. Let us see if they revert. If yes, I will update this section with relevant credit card.
Kotak Bank -> Best Price Card
No Joining / Annual fees
Credit cycle is only 14 days instead of the normal 50 days given by most other cards
You also have another alternate -> Urbane Gold Credit card. There is no joining fee. Annual fees is 199/- which is waived if annual spend is > 15K
Click here to apply for Kotak Credit Card
RBL Bank -> ET Money Loan Pass Card
No Joining fees
Renewal fees of 500/- is waived on annual spend > 1 Lakh
20% cashback up to 250/- per month on Amazon, Grofers, Uber and Zomato
BOGO movie offer up to 200/- per month once a month for weekend show
Try convincing the customer care to convert it into lifetime free card without usage pattern. Depending on your credit history and usage pattern, they may do it. If not, close after 1 year in case you do not plan to spend > 1 Lakh via this card
Click here to apply for RBL Credit Card
SBI Bank -> SBI Prime / IRCTC SBI Platinum Card / OLA Money SBI Card / Vistara Card
In my article on Best Travel Credit Cards, I had recommended SBI Prime for those who travel abroad. If you have taken that card, then no need for additional SBI card. Move to next section
Since SBI does not offer any free card, my recommendation will be to take one of below 3 cards

SBI Vistara card which is charged at 1500/- per annum both on joining and renewal.

In this case, get My Zone credit card as the free card from Axis bank instead of also keeping Axis Vistara.

IRCTC SBI Platinum Card has 500/- joining fees and 300/- renewal fees

Benefits include 10% of railway ticket value back as reward point if booking done in AC coaches through www.irctc.co.in. 1 Reward point = 1 Rupee
Get this card if you travel via train and your total ticket costs (AC Class) are above 3000/- per year

OLA Money SBI Card is free on joining but charges 500/- on renewal (waived if annual spend > 1 Lakh)

Benefits include cashback from Cleartrip, Dineout and other wallet spends being credited as reward points in your OLA Money wallet. 1 Reward point = 1 Rupee
Get this card ONLY if you use OLA a lot. Else not recommended
Click here to apply for SBI Credit Card
Standard Chartered Bank -> Landmark Platinum Rewards Card
Joining / Renewal Fees = 250/- (waived if annual spending > 60,000/-)
100% onetime cashback (up to INR 500) on spends at Landmark Group (Lifestyle, Max, Home Centre .
Benefits

9x Reward points at Landmark group affiliated store, 2x elsewhere, 5% cashback on SPAR stores
You will get two years of free card (due to cashback) on purchase of anything from Lifestyle/Max/Home Centre. After that, try convincing the customer care to convert it into lifetime free card. Depending on your credit history and usage pattern, they may do it.
Click here to apply for Standard Chartered Credit Card
Yes Bank -> First Preferred / Premia / Prosperity Edge Card
This was already recommended in previous post under Must-Have cards. Listing it again if you have not taken this card
Yes Bank is currently offering these as Lifetime free Cards. So please ensure you take them without fail
Eligibility –

Monthly Salary > 2 Lakh (First Preferred)
Monthly Salary > 1.2 Lakh (Premia)
Monthly Salary > 60 Thousand (Prosperity Edge)
Click here to apply for Yes Bank card
Quick Recap
So now that we have listed all the cards, let us do a quick recap.
Must Have Paid Cards – Amex Platinum, HDFC Regalia, ICICI Coral, SBI Vistara
Must Have Free Cards – Yes Bank Preferred/Prime/Prosperity Edge, HSBC Platinum, Kotak Best Price
Free Cards via FD of 35K in total – Axis Bank My Zone, Bank of Baroda Prime
Remaining Paid Cards with total annual cost of 1250/-(but technically free due to cashback/equal points rewarded) – Standard Chartered Landmark, RBL ET Money Loan Pass, Citi Cashback
Recommended Usage Pattern
Following will be the recommended spending/usage patterns to avail maximum benefits:
Use Amex until annual spend of 4 Lakh is reached
Use HDFC for all Amazon / Flipkart / Cleartrip / Yatra / BookMyShow / Zoom Car / Myntra / Nature's Basket shopping to avail 10x point benefit
Once Amex limit is reached, start using Axis Vistara / SBI Vistara card for all shopping except on those receiving 10x points of HDFC
Use Yes Bank card for free Golf sessions
Use Standard Chartered for shopping of 500/- in Landmark outlets. After that, use Axis Vistara / SBI Vistara
Use RBL / Citi / HSBC / ICICI for 1 movie booking per month under BOGO.
Use Citi card for mobile and electricity bill payments and movie bookings under BOGO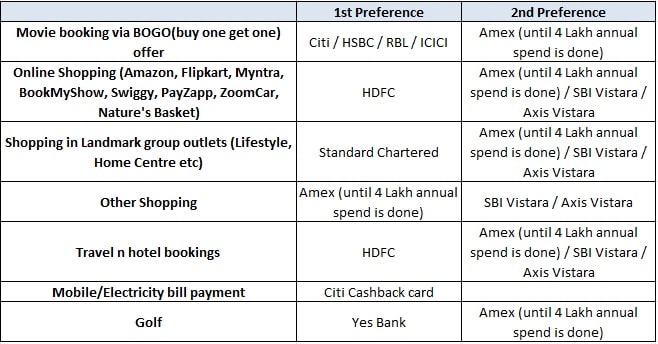 Hope you will be able to follow the tips and save more money everyday 🙂
Make sure you also go through my comprehensive article on Simple ways to save over 1 Lakh rupees per annum
Please leave comments and feedback.
Liked this article? Join my Whatsapp group to be part of our community!