No Cost EMI have become very popular now a days owing to the power it gives to buyers – buy costly products and pay in small installments without any extra interest charges. However, often, what appears good is not always good. So in this article, I will be sharing the Hidden Truth About No Cost EMI – what are the hidden charges when you buy No Cost EMI and how it impacts your credit score.
To understand this topic in Hindi, you can watch my YT video.
What is No Cost EMI
Suppose you want to buy a mobile phone worth 12K. The shopkeeper will give you to option to purchase it in No Cost EMI saying that instead of paying entire 12K at one go, you can buy the product by paying just 1K per month for 12 months and there are no interest charges applicable on it. This offering by retailers is commonly termed as No Cost EMI.
How Does No Cost EMI Work
As per court ruling, retailers cannot offer any loans at 0% interest. Hence, what retailers do is on paper they reduce the price and show the difference as interest. So in the case of our 12K mobile, retailer will show price as 11.5K and 500 rupees will be shown as interest charge. You will be charged 12K and but your bank will be credited only 11.5K (thereby showing this 500 rupees as interest charge). This amount will be refunded in 2-3 days. Then the entire transaction will be converted into No Cost EMI and your EMI of 1K pm will start for 12 months.
At this point, you might be thinking that No Cost EMI is a good thing as we are getting the product without any extra payment. So let us now look at the drawbacks of No Cost EMI. For reference sake, we will try to look at numbers while buying this mobile phone via Amazon website.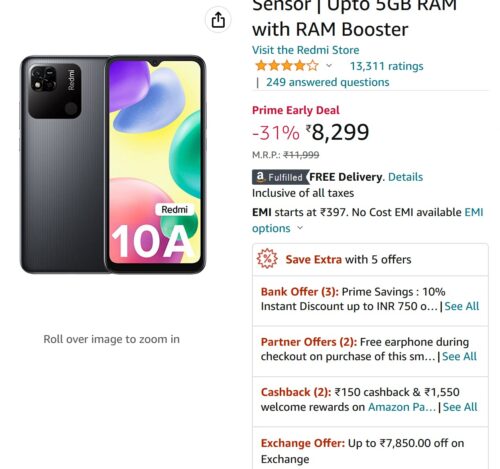 What are the Hidden Truth about No Cost EMI
Hidden Charges
Following are the hidden charges applicable to you whenever you make No Cost EMI Purchase:
The first charge is related to the service offered by banks/credit/debit card companies to convert your purchase into an EMI loan (with 3/6/12 month tenure). Since a service is being done, you will now have to pay GST on service charge.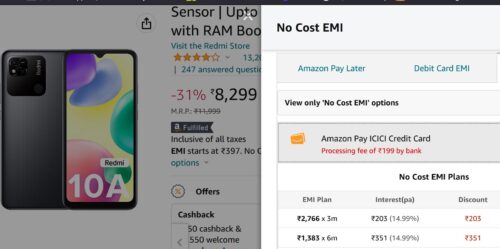 So in our example, for a mobile of 8299/-, Interest component for No Cost EMI is shown as 351/-. So while this 351/- is not charged to you (it is already included in mobile price), you will still be charged GST on this . At current GST rate of 18% on 351/-, this comes to 63/-.
Next charge which you will have to pay is Processing Fees. In our case, this is 199/-. In addition to processing charge, you will also have to pay GST on processing charge which comes to 35/-.
So in total, you spend 63+199+35 = 297/- which is about 4% of the phone cost.
You Miss Out On Reward Points
Nowadays, most credit cards and debit cards give 5-6% reward points on purchases. But if you buy a product on No Cost EMI via credit or debit cards, you will not eligible for reward points.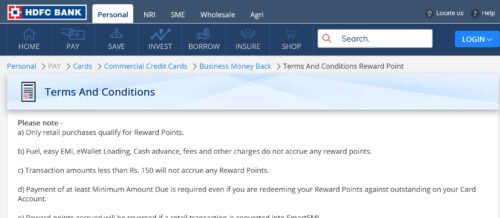 As a result, you loose out directly on 10-11% (4% of hidden charges + 6% of reward points).
Return & Foreclosure Policies of No Cost EMI
While No Cost EMI purchase may have return policies, you will not be refunded any amount charged towards processing charges and GST.
Similarly, if you want to close the No Cost EMI loan before its tenure ends, there might be some extra charge asked by the bank for foreclosure.
Credit Score Impact
The moment you take No Cost EMI loan using your credit or debit card, your credit limit is reduced by the amount equivalent to the price of product. This can adversely impact your credit score especially if you are consuming over 40% of total credit limit.
Another thing to note is that your credit limit availability is blocked until you clear the loan. As and when you keep paying the EMI amount, your credit limit availability keeps rising.
For example, your credit card limit is 2L rupees and you purchase Apple laptop worth 1.2L rupees with 12 months no cost EMI of 10K per month. When you swipe the card for first time, you are consuming 60% of your credit limit which will impact your credit score. After 1st month when you have paid first EMI of 10K, your balance due is 1.1L which is still 55% of credit limit. Similarly after 2nd month, your balance due will be 1L which is 50% of credit limit. Infact, for 4 months, your utilization is above recommended 40% utilization which will badly impact the credit score.
Missed Offers
Most retailers give some additional discounts or freebies to customers for big ticket purchases. Or there are cashback schemes from banks to lure customers.
If you are availing No Cost EMI, you may not be able to avail other offers running on the product. This means, any further discounts or credit card schemes will be lost.
Impulsive Purchases
When you go to a store, the salesman tries to lure you to spend more money. As a result, he will sell you products even if you do not have budget for it or not planning to buy it. And this issue is countered by saying that you can buy on No Cost EMI. Customer agrees thinking that it will not impact him much as he can afford it in monthly salary.
This exactly is the impulsive purchase which is caused by No Cost EMI. And this is a problem because it impacts the personal budget directly. In looking at short term, person misses the long term goals and ultimately has to compromise on them. If there was no such No Cost EMI option, the customer might have stuck to his budget or not purchased the product in first place.
Conclusion
As you see, No Cost EMI is more than what meets the eye. Just buying things because you are getting them at No Cost EMI is not a wise idea as you end up spending more than you wanted. But if you are careful to stick to your budget / credit limits and buy only those things which you truly need, then you can think of No Cost EMI.
Hope you found the article useful. As always, looking forward to your comments and feedback.