Life has a way of balancing out things. Nothing lasts forever. Bad times are always followed by good times and vice versa.
These sayings aptly describe Stock markets. From being at record lows in March 2020 when Covid-19 epidemic started hitting India (and the world) and causing economy to come to a virtual standstill amidst lockdown, we have come to a full circle now. Both NSE and BSE are at lifetime high and there is no stopping them.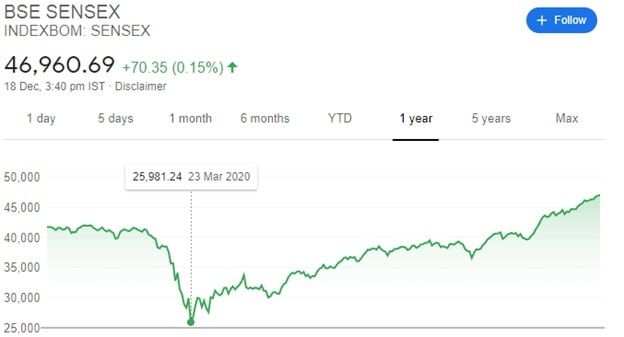 In my previous article titled How to benefit from falling markets and make money, I had explained how there is a good chance of making money from the stock market crash and how I plan to make money to fulfill my goal of buying a MacBook.
In this article, I will focus on how I benefitted from growing markets and made money. I will explain what I did over the last few months, how much money I made and how close I am to achieving my goal. I will co-relate these with each of the steps I had written in the previous article.
Step 1 – Start investing
While writing and even after publishing my falling market article in March, I had started investing money. I purchased few large-cap stocks and few good quality stocks bases my research and understanding (and advice from ET Wealth newspaper 🙂 )
Below is the list of my initial purchase
Step 2 – Buy more when market falls further
I followed this advice as well and kept buying more as and when the prices of my stocks fell. So if you see, over a period of few weeks, I purchased more of Bajaj Finance and Tata Motors stocks at a lower price.
Instead of investing 67K as per my initial plan, I went on to invest additional money taking my total investment to 1.21L. Idea was that 67K will grow to 1L for MacBook and 50K can grow to 1L to help in our next foreign trip.
Note => I overshot my budget which is a bad thing from personal finance perspective. However, knowing that I am investing in quality stocks and they will give me good returns, I was sure of this move.
Step 3 – Be patient and keep track of your portfolio
I regularly kept track of my portfolio to find out how the stocks were doing.
Step 4 – Start withdrawing when you are about to reach your goal
Gradually Sensex started increasing and this gave me an opportunity to make profits. As per the plan from the previous article, I withdrew my investment and booked profits as soon as I was getting 40% return. So I sold the following
Note that I did not sell all my stocks. The strategy behind selling was that I was getting good returns and factored in that the stocks will increase further in the next few months.
Step 5 – Do not get greedy
With markets scaling new high every day, it was important that I do not fall into the greed trap. So I again went in for sale this week when Bajaj Finance shares were trading at lifetime high
Via this, I had done a total sale of 1.59L against a total investment of 1.21 L. I got back my investment and also made a profit of 38K within 8 months – return of 31% so far which is awesome. Even if I deduct short term tax gain from it, the returns will be good. J
I still hold the following stocks which on paper are worth 77.4K taking my total returns to 2.36K => slightly less than the double of investments I had made 🙂
I plan to hold them for some more time and sell them maybe when this 77K becomes 1L. With vaccine trial phases nearing completion and actual vaccination starting, I am hopeful the markets will continue to boom at least for few more weeks and allow me to achieve my target.
Now the important thing to note is that this 77K pending in the market is on-paper. If there is a crash tomorrow, it might become zero or even negative. But I am not worried as I have already withdrawn invested amount and made 31% profit. This 77K is something I will hold on to. Infact, I will buy more knowing that there will be a boom again in future.
Coming to my plan of buying a MacBook – well, I used my brother-in-law's MacBook for a couple of weeks. But did not like it much. So the fascination for MacBook has ended even though I have saved money to buy it at the cost of a windows laptop. My revised plan is to buy a good windows laptop and use the remaining money for a foreign trip (when Covid is gone 🙂 ). So it will hopefully be 70K of laptop and 1.6L for a foreign trip.
Conclusion
Sensex has grown from 25K to 47K in 9 months. It might fall down again at some point. The key is to not panic if there is a stock market crash. Buy more and be patient for your money to grow. And don't just sit holding onto the stocks after purchase. Keep track of them and keep booking profits at regular intervals as and when the stock market booms. Else your excess greed will result in you holding onto stocks until the next crash and then crying that you have lost all your money.
Liked this article? Join my Whatsapp group to be part of our community!
Other articles worth reading:
Think you have planned for your retirement? Read my article on Is 1 Crore retirement corpus enough?
Know all about insurance? Make sure you read my comprehensive article on Why NOT to rely on Office/Personal Health Insurance for Covid-19
Like travel? Visit this snow valley in India to get feel of Switzerland!
Feel free to share this article by clicking on the below icons…