All those relying on existing office/personal health insurance policy to cover Corona – be prepared for a big dent in your pocket! You will most likely loose over 20K if diagnosed with Covid-19.
This article will tell you why NOT to rely on Office/Personal Health Insurance for Covid-19, why we should all buy Covid-19 specific policy, all about such policies available in the market, and how to select the right policy. As a bonus, I will also give a few tips to save money while purchasing the policy.
Disclaimer – I have just used Edelweiss as an example for comparing various policies because I found it cheap. You are free to buy from any insurance provider. Also, please read the policy documents carefully before purchasing.
1. Why Not to rely on Office/Personal Health Insurance for Covid-19?
It is true that almost all the insurance providers now cover Covid-19 in their health insurance plans. This means your existing policy will automatically pay in case you are infected with Corona. And this forms the basis of most people not wanting to buy a separate Corona specific policy.
However, what many people fail to realize is that most of the generic health policies usually have few caveats:
Waiting period of 30 days for new diseases.
Hospitalization for a minimum of 24 hours.
Only medical expenses are covered in the policy. Non-medical expenses have to be paid by the patient.
Now if someone has been detected Corona positive but has been advised for home treatment (due to mild infection and being asymptotic), they will not be able to claim anything from existing health insurance. This means straight dent of 9 – 17K (see examples of Corona home treatment packages)
The situation is no better for patients who have to be hospitalized. Most existing health policies won't cover non-medical costs(like PPE Kits, Gloves, Masks etc) which can contribute to approximately 30-40% of your total bill. For example, only the PPT Kits, Gloves & Masks can cost over 10K (assuming cost of 500/- of PPE Kit and 250/- of gloves/masks per day for 14 days). Add standard non-medical expenses which are added to every bill, you are looking at costs of well over 20K from your own pocket in spite of having an office/personal health insurance.
You will also lose out on following if using office/personal health insurance to cover Covid:
You may lose No Claim Bonus (NCB) on your policy if you claim during the year
If the policy has a co-pay option, you will have to shell out some money from your pocket
If you exhaust your limit and do not get an automatic top-up, then you will not have any insurance for future infection/other serious infections.
From the above points, it is very clear that in both home treatment and hospital treatment, you will have to spend well over 20K from your pocket in case you use a personal / office health insurance policy.
Compared to this, a dedicated Corona Kavach policy of 5 Lakhs for 9.5 months coverage will cost you only 1487/- (with everything being covered including PPE Kit, Gloves, Mask, Home Treatment etc).
Straight savings of over 20K!!! Interested in saving this money?? Read on…
2. All About Covid-19 Specific Policies
Now that we are clear about not relying on existing office/personal health policy and buying a dedicated Corona plan, let us do a detailed analysis on such Corona specific plans.
To help citizens, IRDAI (insurance regulator) had mandated insurance providers to launch a dedicated Corona policy. The framework of such a policy was provided and all providers had to adhere to it.
There were 2 types of Corona specific policies launched:
Corona Kavach – Similar to Health insurance – your actual bills are paid up to the maximum limit of the policy.
Corona Rakshak – Similar to term insurance – you get lumpsum amount (sum assured) if diagnosed with Corona and hospitalized for a minimum of 72 hours.
2.1 Corona Kavach Policy
2.1.1

What is Corona Kavach
Corona Kavach is a corona specific insurance policy launched as per guidelines of IRDAI. Following are salient features offered by all insurance providers selling Corona Kavach:
Waiting period = 14 to 16 days
Sum Assured = Ranges from 50K (minimum) to 5 Lakhs (maximum)
Duration = 3 options – 3.5 months, 6.5 months, 9.5 months
Can be purchased by = Anyone above 18 years of age upto 65 years
Can be purchased for = Self, Spouse, Parents, Parents in Law, Dependent children (1 day to 25 years)
Plan Type = 2 options – Individual Policy, Family Floater
Copay = 0%
2.1.2 What is covered / Not covered in Corona Kavach
Short answer – everything related to Covid is covered! Anything else is not covered.
Detailed answer – Following are covered:
Type of treatment = Home Care, Hospital, Ayush(Ayurveda, Homeopathy, Unani) treatment
Consumables = PPE Kits, Gloves, Masks, etc
Pre-hospitalization up to 15 days & post hospitalization up to 30 days
Any resulting infection triggered directly due to Covid-19
Ambulance costs
Thing to remember – Covid test should be conducted in government authorized center only. Else insurance company will reject your claim.
Following are not covered:
Pre-Existing diseases
Any other disease identified during policy period but not related/caused due to Corona
Treatment outside India
As you see, Corona Kavach policy is specifically designed for Corona and covers everything related to it.
2.1.3

Which one to buy – Family Floater or Individual Policy
Since Covid-19 is a virus, it spreads easily. So, if one member of the family gets infected, there are high chances that others of the family will also get infected. So, it is a good idea to have Corona Kavach for the entire family.
However, this does not mean that we should buy one Family Floater plan. Let us see the reasons for me saying so:
Cost for 5L SA and 9.5 Months Cover –
Individual Policy = 1487/- (Edelwiss for 38 yrs male living in Pune)
Family Floater = 5502/- (Edelwiss for 38 yrs male, 34 yrs female, 6 yrs girl, 3 yrs boy)
Cost wise, family floater looks cheaper for 4 people (5502/- vs 1487*4 = 5948/-). But the downfall is that you have 5 Lakhs Sum Assured for 4 members instead of 1 member.
Assuming that 2L is the expense for 1 person, the family will not be able to afford everyone's treatment under Corona Kavach. They will have to pay 3 L from their own pocket.
Instead of this, a wise option will be to buy Individual policy for everyone. But as children below 18 years cannot buy policies, a better idea will be to buy 2 family floater policies by clubbing 1 child with father and 1 child with mother. Revised costs will be 2900/- each which totals to 5800/- (just 300 rupees more than Family Floater)
Also, since senior citizens are more prone to getting infected, it is better to buy a separate plan for them costing 3621/- (Edelweiss for a 65 yrs and 63 yrs couple).
2.1.4

Which Corona Kavach Policy to buy
Covid-19 specific policy framework is mandated by IRDAI and all providers have to adhere to it. Hence, in reality, everyone will offer the same benefits. It is just a few less-important things which might differ and vary the price.
On Coverfox, you see only Edelwiss while on Policy Bazaar, you can 4 insurance providers. If you do google search, you will find more options. You can buy from any provider as per your choice.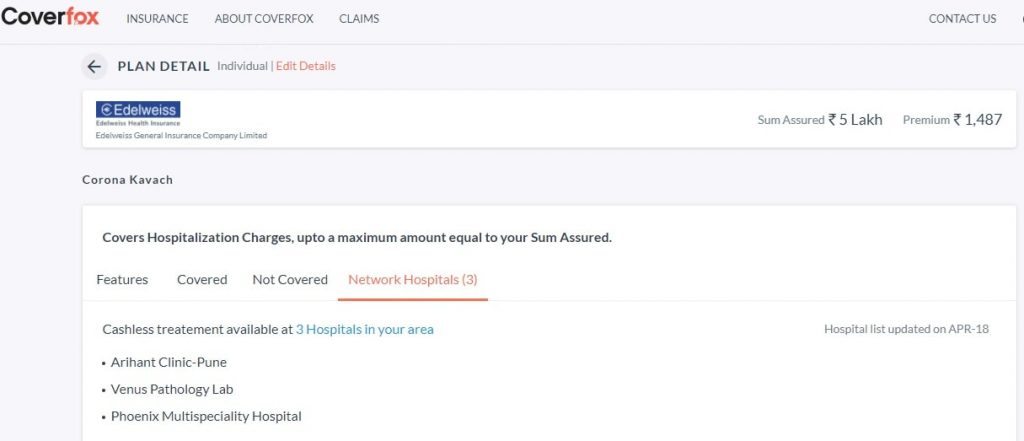 One thing to keep in mind is the number of cashless hospital with which insurance provider has tie-up. While re-imbursements can be done if treated in non-network hospital, it is always convenient to avoid the hassle of paying upfront and then waiting to get money.
Hence, please search if hospitals near your area are part of the insurance provider cashless network before deciding which provider to opt for. If most of the hospitals are present, go for the cheapest policy.
Tip => speak directly with the insurance providers to check which hospitals in your area are covered instead of relying on Policy Bazaar/Coverfox. If you see the above images, Coverfox claims that Edelweiss provides Cashless facility in 3 hospitals in Pune while Policy Bazaar claims 165 hospitals. If you search on Edelweiss website, it shows 232 hospitals in Pune for cashless claim.
2.1.5

Trap to avoid – Claim Settlement Ratio (CSR)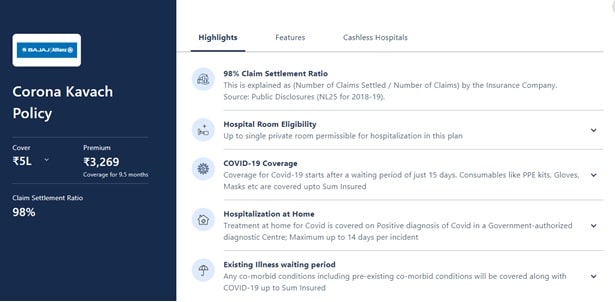 Observe that Bajaj Allianz is charging 3269/- for a similar policy for which Edelweiss is charging 1487/-. The page also highlights 98% CSR.
I think this is misleading for two reasons:
Highlights section says 98% CSR as per 2018-19 data. Now Bajaj Allianz might have settled 98% overall claim across all types of Health Insurances. But Covid-19 itself started in Feb 2020 in India. Hence, there is no data to prove whether 98% CSR holds good for Covid-19 or not
Corona Kavach is an insurance policy only for Covid-19. If you get infected, you will be paid. If not, you will not be paid. As simple as that. There is no reason or question of the claim being rejected if you follow the guidelines (waiting period, not related to previous disease, tested in government authorized center etc)
Hence, do not give too much weightage to CSR while buying the policy.
2.2 Corona Rakshak Policy
While Corona Kavach is a proper health insurance policy, Corona Rakshak is similar to term insurance. You will get 100% sum assured as lumpsum benefit. In simple words, it means that you will receive entire money if you are detected for Corona and hospitalized for a minimum of 72 hours. Your actual bill will not matter in this case.
Few things to remember for Corona Rakshak:
This is an individual plan and not a family floater
Minimum sum assured is 50K and maximum sum assured can be 2.5 Lakhs. Tenure options are 3.5 months, 6.5 months and 9.5 months. Waiting period is 15 days.
All those within 18 to 65 years of age can buy the policy
Do you think this is a good policy?? In my opinion, the only drawback of this policy is 72 hours hospitalization. That means patients availing Home Treatment will not benefit from this policy. Also, you never know how much will be the final bill on hospitalization. It can be below 2.5 Lakh or even higher than that in which case you will have to pay from your pocket. So it is better not to rely on this policy.
Currently, I see only Universal Sompo offering Corona Rakshak policy on Policy Bazaar. Alternatively, you may also search other insurance providers by visiting their websites directly ( I saw Edelweiss offering Corona Rakshak policy for 2L premium).
3. Tips to save money while purchasing the policy
Buy Corona Rakshak policy only if you think your hospitalization bill will be less than 2.5 Lakh and are OK with losing out on benefits if doctors advise home treatment. For all other scenarios, buy Corona Kavach
Buy for 9.5 months (we do not know when the vaccine will come and things will return to old normal)
To cover 2 adults and 2 children, buy 2 family floaters instead of 1 family floater
Buy maximum sum assured policy (5 Lakhs)
Buy separate policy for parents
Choose insurance provider offering the lowest premium (while having a decent network of hospitals)
Do not give much weightage to CSR
Visit the direct website of the insurance provider once before final purchase to check if they are offering any discounts. For example, Edelweiss is offering 5% family discount / 15% direct online purchase discount. The policy which Coverfox and Policy Bazaar are offering at 1487/- can be purchased on Edelweiss website at 1263/-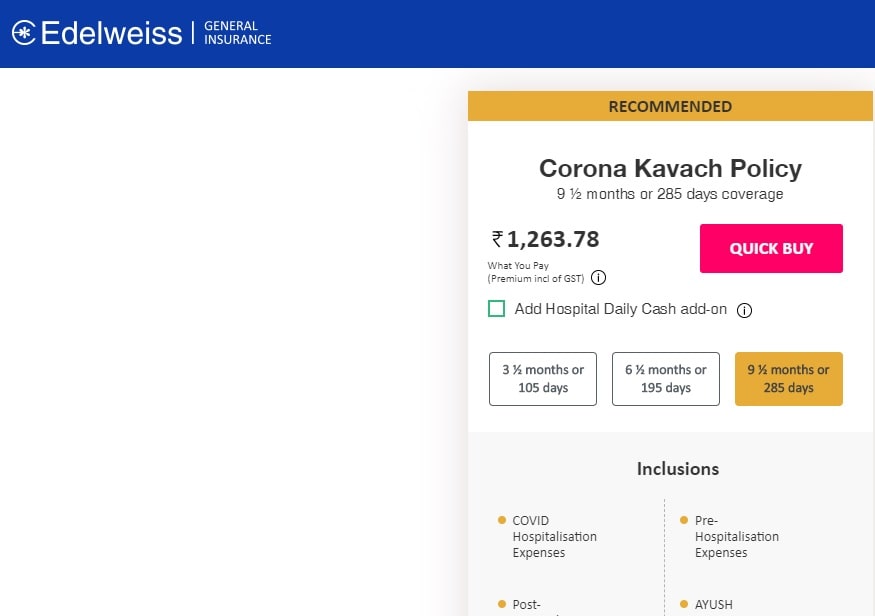 I hope this article has helped you realize that it is better to buy separate Corona Kavach policy instead of relying on office/personal health insurance.
Also read – 11 New ways to earn extra income even with a full-time job

Another interesting article – Rent vs Buy a house – Which is better?
Now that we know all about Covid-19 specific policies and also the advantages of why we should buy them, its time to take action by buying the policy and safeguarding your financial health 🙂
Liked this article? Join my Whatsapp group to be part of our community!