Apart from the diversification, tax benefits and returns offered, another good reason to invest in NPS is the variety of online NPS payment options available to end user. In addition to the usual offline options like cheque, DD and via PoP-SP, users can also avail different options like Net Banking, UPI, Debit Card, Credit Card, Bank Transfer, SIP etc to pay NPS online. In this post, we will discuss the various options available for Online NPS Contribution using which users can pay NPS online.
How to Make NPS Online Payment for NPS Contribution
Step 1 – Reach the Subscriber Contribution Page
First step is to reach the page from where you can do the payment. There are three ways to do it:
Without Logging

– For online NPS contribution payment, it is not mandatory that you have to login to your NPS account. You can also pay NPS online without logging by going to their portal login page and choosing Invest In NPS option (2nd option on the left side).
By Logging Into NPS Account – Alternatively, you can also login to NPS account, and from there, select the Transact Online – Contribute Online option under header menu. You will be directed to the same contribution page I mentioned above.
Step 2 – Update Contribution Details and Select Payment Gateway
On the Subscriber Service – Contribution page, enter your PRAN number, DOB and other details and click on verify button. After OTP authentication, you will be able to choose the amount and the Tier in which you want to do online NPS contribution payment.
Next, you will be asked to choose the payment gateway option between BillDesk and Razorpay. You will have to choose among these carefully if you are doing online payment via Net Banking or Debit Card mode. If you are doing Online NPS payment via Credit Card, you can select any of the gateway provider.
As of writing this article, BillDesk had tie-up 38 banks while Razorpay had tie-up with 58 banks.
There are no payment gateway charges for Net Banking or Debit Card. But you will have to bear 0.75% of transaction amount + 18% GST on it as gateway charge for using credit card.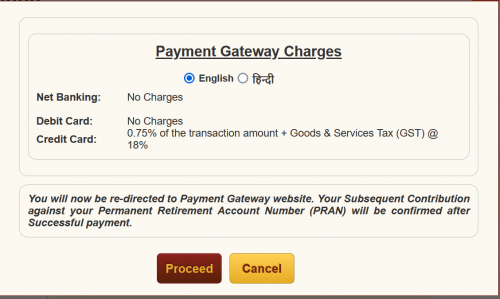 Tip – Opt for Razorpay payment gateway if you want to do Net Banking or Debit Card banking due to their tie-up with more banks.
Step 3 – Select Mode of Payment and Make The Payment
Once you select the payment gateway and proceed, you will be routed to the page which has various options for Online NPS Contribution. You can select from Internet Banking, Debit Card (Visa, Mastercard, Maestro, Rupay), UPI (BHIM UPI), Credit Card, Other Debit Cards and QR Code (BHIM UPI).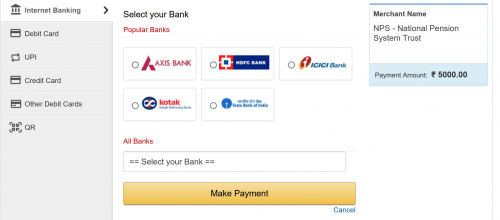 Payment via UPI or QR Code
If you choose UPI or QR Code option, a pop-up will appear where you have to enter either your UPI ID or scan the QR code from your UPI app (like Google Pay, Paytm, Phonepay etc). Basis that, you will be directed within your app to enter the PIN and make the payment.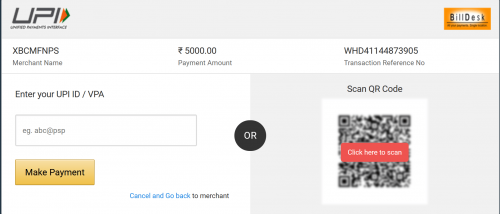 Note – It takes 2 working days from the day of payment for the units to be credited in your account via online payment mode.
Also read => 9 Things You Did Not Know About NPS

Also read => Tax Benefits on NPS
Online Payment – Same Day NAV
You can now also make do NPS online payment via bank and get same day NAV. To do that, first step is to login to your NPS account from the login page.
Once you have logged-in, click on the Get Same Day NAV, Register for D-Remit Now option shown on home page.
You will be asked to verify your PRAN again. Once you have done that, you will be routed to Virtual Account Registration page.
On this page, you can register for Virtual Accounts for either Tier 1, Tier 2 or both. You can also see the current status of your previous requests and whether any account is active or not.
Once you submit the request, an acknowledgement number will be generated for tracking purpose.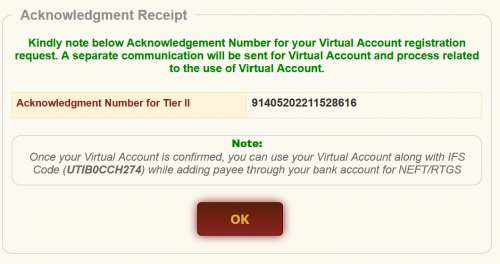 The next working day, your Virtual Account number will be generated and sent to your registered mail id.
You will have to add this account number and IFSC code (given in mail) as a beneficiary in your net banking account. Once the beneficiary is added, you can transfer the money directly by logging into your bank account.
Online NPS Payment via SIP mode
You can also create a standing instruction with bank to transfer certain amount every month to the virtual account. This way, you will be able to create SIP for monthly NPS contribution via online payment mode.
Following image lists the steps to get same day NAV via SIP mode.

Hope you will be able to use various ways for doing NPS Contributions via online mode.