Credit cards are like a double-edged sword. If used properly, they will give you plenty of benefits. But if misused, you will end up with lots of trouble and liabilities. This article gives 21 tips on how to use credit cards to maximize their potential. I have broken them into right and wrong ways for convenience.
Wrong Ways To Use Credit Cards
Let us first focus on the things you should avoid while using credit cards.
Cash Withdrawal
Never use credit cards to withdraw cash unless it is an extreme emergency. Credit card companies charge extremely high-interest rates on cash withdrawal and the worst thing is that these interest rates are charged right from day 1 on a daily basis.
SBI for instance levies the following charges for cash withdrawal using their credit card:
Transaction fees of 2.5% or 500 rupees whichever is higher
Interest 40.2% per annum charged for the number of days you have not deposited the cashback
So if someone withdraws ₹10,000 using his credit card and repays back after 30 days, he'll have to return 500 (transaction fees) + 10,000 (withdrawn amount) + 330 (interest charges) + tax amount = 10,830 (+ tax)/-. And if the payment due date of the credit card falls within this 30 day period, you will be paying additional charges for that as well.
In comparison to this, a personal loan from bank is normally available at 12% pa and will cost you just 10,100/- for 30 day period.
Delaying your payment
Never delay your credit card payments as you will keep incurring penalties, late payment fees and interests.
Let us look at real life example:
Mr. A makes a transaction of 1083/- on 14th Sep 2020 on HDFC Diners credit card. His bill is generated on 2nd Oct and he has to pay this 1083/- by 22nd Oct 2020.
However, Mr. A forgets to make this payment, realize it only on 30th Nov and makes the payment on same day. Following is what will happen (refer to images below):
Since Mr. A has not paid by 22nd Oct due date, the next bill generated on 2nd Nov shows:
Late Fees of 500/- levied on 25th Oct (3 days after due date)
Tax of 18% on late fees = 90/-
Interest charges of 45/- (calculated from 14th Sep to 2nd Nov for 48 days @32%pa on 1082/-)
2. Mr. A now makes payment on 30th Nov. His bill generated on 2nd Dec shows the following
Tax of 18% on interest charges (45/-) levied in Nov = 8.11/-
Late fees of 500/- again (since due date in Nov bill was immediate and payment was made on 30th Nov)
Tax of 18% on late fees = 90/-
Interest charges of 56/- (calculated from 22nd Oct (previous last date) to 30th Nov for 38 days @32%pa on 1718/- (previous due amount))
3. In the bill generated on 2nd Jan, Mr. A will again see the following assuming he cleared Nov pending dues of 594/- on time
Tax of 18% on interest charges (56/-) levied in Dec = 9.94/-
In short, for a purchase of 1082/-, Mr. A had to repay total of 1082+1000 (late fees) + 180 (taxes on late fees) + 101 (interest) + 18 (taxes on interest) = 2381/-
To make matters worse, if he had made another purchase in the interim, even that amount would have been considered for interest calculations from that day onward,
Hence, always remember to pay your credit card bills on time. In fact, it should be paid at least 3 days before your due date.
Tip => Use apps like Cred to get timely payment reminders and earn points (Cred coins) which can be redeemed for discounted coupons/cashback
Paying minimum due amount
Never fall into the trap of paying the minimum due amount. This is because the credit card company will keep levying interest on the amount which is pending (that too on a daily basis).
Remember our example of Mr. A from delayed payment. If he would have done minimum payment before the due date, only late fees + taxes would not have applied. However, interest plus taxes from day 1 would still be applicable to him.
Hence, look at your statement carefully and always ensure that full amount is paid.
Note => Late payment or not paying the full amount will also impact your credit score which can adversely impact your insurance renewal premiums, interest rates for car/home/education loan, getting new credit cards (or higher credit limits) etc. So always pay full amount on time and aim to improve your cibil score which can get you loans at better interest rates in future.
Spending more than your credit limit / purchasing power
Credit cards if not used properly can put you in a vicious cycle of debt.
If you are an impulsive purchaser, then it is better that you modify the card spend limit to stay within your budget. Else you will inevitably make a high-cost purchase without thinking too much and then not be able to pay within the due date. This will result in you going to late payments and partial payments related scenarios.
You can reduce your spending limits by logging into your credit card website.
Also remember to disable your international spend if you are not planning any international trip/purchase in near future.
Losing sight of your credit card / sharing credit card details
You have gone out to a restaurant. When the waiter comes with bill, you hand your credit card to him for making the payment. The waiter disappears with the card citing that the machine is at the counter.
If you are among those who have done this, then you are inviting trouble. With the number of card cloning and fraud cases increasing, your card data can be duplicated and misused for fraudulent/illegal activities.
Hence, please ensure that you keep your credit card always within sight while making payments at any outlet. Never trust anyone and give credit card to them.
Similarly never share your credit card details (and especially the OTP) with anyone over the phone.
Being stuck with the wrong card
There's no point in having a travel credit card if you don't travel much. Similarly, people fond of shopping will be better off having a card giving cashback and discounts on retail spends instead of reward points/travel vouchers.
Hence, it is important that you have the right credit card based on your needs and preferences. Spend some time to decide which type of credit card suits you best and get that card.
Related article => Cashback lovers should read my blog on Which among ICICI-Amazon vs Citi-Paytm vs Axis-Flipkart bank is a better cashback card
Diversification
There is a famous saying that you should not spread your eggs in one basket. However, this does not hold true in the case in the case of credit card.
If you use multiple credit cards without proper planning, you will not be able to maximize their potential. This is because most of the credit cards give reward points based on the spend and if you use even 3 or 4 credit cards, your total spend will be split across these and your reward points will be less.
So always try to ensure that you do most of your purchasing from one card.
Converting your payments into EMI
Tempted by the zero interest EMIs offered on big ticket items? They are marketing gimmicks to push you into buying more than your budget and putting a debt on your head in the form of EMIs.
When you convert a transaction into EMI, you will have to pay processing fees and EMI interest rates. These are over and above the price of product you purchased. And in today's world where there is no job certainty, why have EMI headache?
Hence, always avoid converting purchases into EMIs.
Not cancelling properly
If you want to cancel your card, always ensure that following steps are followed:
Speak with customer care and raise a ticket for cancelling the card. Remember to take a service ticket number from them. If they are not giving that, take their helpdesk mail id and drop a mail from your registered mail id asking to cancel a card
Safely store this service ticket number and email forever.
Once you get confirmation from customer care that the card is canceled, store that confirmation safely.
Try using it for making some payments. If you are still able to make payment, escalate to customer support.
If you are not able to make payment, cut the card into multiple pieces and throw it away if it is a free card.
However, for cards having annual membership, my recommendation will be to keep the card until the next renewal comes up. If you still get annual charges levied, escalate and sort it out and then destroy the card.
Now that we have looked at the wrong ways of using credit card, let us focus on few good practices which will help maximize you returns.
Right Ways To Use Credit Cards
Quick answer to right way of using credit card => Always pay full amount before due date.
Few other ways to using credit cards correctly and maximizing their potential are listed below:
Avail protection offered by your card
Few cards offer complimentary insurance and emergency overseas hospitalization benefits.
Just ensure that you have updated nominee details (and informed nominee of this feature).
Enjoy Fraud/Lost card liability benefit
Regularly monitor your SMS/mails for any unauthorised payments happening on your credit card. If yes, report them immediately and block the card. If done immediately (normally within 24 to 72 hours depending on credit cards), you will NOT be liable to make any payments for fraudulent transactions.
Also, the onus of proving fraud and recovering the money will lie with bank
Think before saying no to paid credit cards
Paid cards can be beneficial if used properly.
Let me take the example of 2 cards – American Express Platinum travel card and Axis Vistara credit card. Amex card costs ₹5000/-pa but in return, you will get benefits of more than 24,000 per year. Similarly Vistara card offer 3-4 free flight tickets on milestone completion in economy/premium economy/business class depending on your card.
As you see, by paying 6,500/-, I get 4 flight tickets of Vistara and travel vouchers worth 14,000/- plus Taj hotel voucher worth 10,000/- from Amex => enough for vacations for a family of 4.
Distribute / spend wisely
Rank your credit cards depending on the benefits you can achieve out of them. Aim should be to spend the most on credit card offering maximum rewards. Once you have achieved the required targets with that card, move on to the second best card.
For example, I like travelling. So my preferred cards are American Express Platinum Travel card, SBI Vistara credit cards and HDFC Diners/Regalia credit card. These offer me complimentary flight tickets and lounge access, free hotel vouchers and higher reward redemption ratio. I first start using American Express for all my spends and achieve the target of 4,00,000/- at which point I extract the maximum benefits from this card. Then I put my Amex card in cold storage and start spending on Vistara card which gives me free flight tickets on milestone spending. Once I complete all the milestones, I spend the remaining via my HDFC card.
Opt for upgrades on your credit card if you think they are useful
Credit cards are like ladder steps. The entry level cards offer minimal benefits. But as you go towards higher category cards, the benefits can be awesome. And then there are super premium cards which are offered on invite only (normally to HNIs or existing customers holding one level below cards)
For example, HDFC has Infinia as its super premium card and is an invite only card. However, if you have HDFC Diners Black (one level below Infinia), there are chances that you might be offered upgrade to Infinia in future.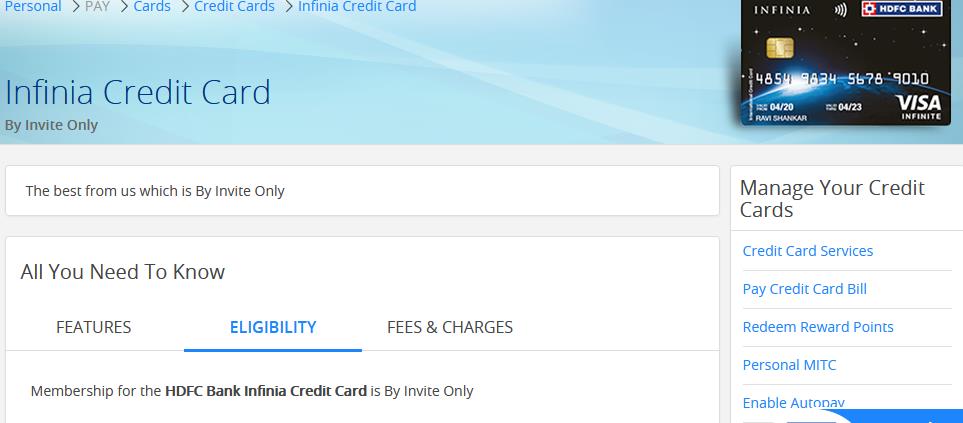 So if you get any such offer of card upgrade, hear the person, understand the benefits achieved vs the extra cost you have to pay and then decide whether to upgrade or not.
Avail max credit limit
You should always accept the offer to increase credit limit. Doing this will benefit you in following ways:
Higher limits will be helpful if you have emergency/want to make big ticket purchases
You can easily get new credit card with higher limits basis your existing card limit
You will be able to achieve high loan amount (personal/education/home etc) by having high credit limit
Tip => Remember that even though you should aim for highest possible credit limit, always modify spend limits basis your usage and your income/spending capacity.
Always accept offers of free credit cards
Every time there is a sale on Amazon, Flipkart, Indigo, Spicejet etc, you see extra 10% discount being offered on few credit cards. And we Indians always try jugaad to find someone who has these credit cards. We do repay the purchase amount to that person but he gets to keep the reward points.
Well, you can avoid it by availing free credit cards.
So next time you get a call offering lifetime free credit card, simply say Yes. Aim should be to have 1 credit card (either free or paid) per bank. This will help you avoid asking people while also getting reward points for the purchase.
Use Reward Multiplier offers
Credit card companies like HDFC, Amex, Yes Bank etc offer higher reward points on purchase from partners like Amazon and Flipkart etc.
Go to banks dedicated site (For example, HDFC has Smartbuy website, Amex has Rewards Multiplier website, Yesbank has Yescart), enter your card details and from there login to partner portal of Amazon/Flipkart etc.
Tip => You will have to empty your cart on partner portal (Amazon/Flipkart etc), then go to bank dedicated site and start from there. Only then you will earn the higher reward points. Else you will not get any reward points.
So next time you are buying something from Amazon/Flipkart, remember to use this trick to get higher reward points
Use your reward points correctly
Every bank offers reward points on credit card spends. These reward points can be redeemed on multiple things and they normally expire after 3 years. Redemption charges for most cards are 99/- + taxes.
So best practise is to accumulate reward points for 3 years and then redeem them together at one go.
Credit card statements give details of points which are expiring in next 60 days. So, read your statements carefully to know the expiry date and ensure that you redeem the points instead of letting them expire.
Maximize reward point earning
Thanks to corona, people have gone digital. Now almost everyone accepts cashless payments via Credit Cards, Google Pay or Paytm.
My recommendation will be to do maximum transactions with credit cards instead of Google Pay or Paytm as card payments will earn you reward points / milestone benefits.
Regularly check your emails about the latest offers
All card companies keep rolling out new offers where on spending certain amount you get discounts/vouchers/bonus reward points etc. Most of these are related to travel, flight booking hotel booking, online shopping, dining, retail shopping, outing, movies etc.
Hence, please read your emails to find out the latest offers and benefit from them.
Tip => Make use of such offers only if they are within your purchasing plans / monthly spending range. DO NOT spend unnecessarily just to get vouchers.
Avail lounge benefits
Remember to use your credit card on airport lounges for free benefits. And if you happen to have card offering free Priority Pass and international lounge benefits, then all the better for you. You will be able to spend time relaxing, enjoying and eating at international lounge while in transit.
Conclusion
In short, by using lots of common sense plus strictly adhering to 3 policies (no withdrawal, no partial pay, no late pay), you can fully maximize the potential and reap benefits from credit cards.
Liked this article? Join my Whatsapp group to be part of our community!
Other articles worth reading:
Credit cards => How to get free flight tickets on Vistara
Fan of OTT? => How to watch Netflix, Amazon Prime, Hotstar and other OTTs for free
Alternate Income => 11 New Ways to Earn Extra Income even with a Full-Time Job
Feel free to share this article by clicking on the below icons…