Compound Interest is termed as the 8th Wonder of the World. If used properly, it can do wonders to your portfolio and can make a difference of few crores in the corpus. In this article, I list 5 secrets of compound interest using which you can maximize the magic of Compound Interest.
Secret 1 – Magic happens only in long term
If you are looking to benefit from compound interest in short term, then you will be disappointed. You need to be patient and give time to benefit from Compound Interest
For example, if you get a genie doubling your money every day starting from Rs 1, then in 10 days, you will earn only Rs 512/-. But this will turn to 5.24 Lakh in 20 days, 53.68 Crore in 30 days and 107 Crore in 31 days.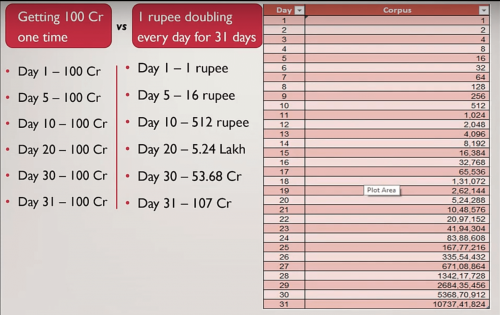 So stay invested in good return products for long term to benefit from secret 1.
Secret 2 – Small Withdrawal = Big Dent
Just like even a small dent on your brand new car hurts you a lot, even a small withdrawal from your corpus will make a big dent on the final corpus amount.
For example, if you invest 1 Lakh as one time investment for 30 years, you will get corpus of 66.21 Lakh if there is no withdrawal till 30 years. But if you withdraw 1 Lakh in 5th year, then your corpus after 30 years comes down to 33.29 Lakh. Assumed interest rate is 15% per annum.
Secret 3 – Early Bird Gets The Worm
When it comes to investing, this age old advice holds true. The earlier you start to invest, the higher time your corpus will get to grow and the more magic compound interest will be able to do to turn your corpus into multi-crore.
For example, if you invest 10K at the age of 20 vs at 25 or 30, the difference in your corpus at the age of 50 years will be significant. 10K will turn to 6.62 Lakh if invested at 20 years of age, 3.29 Lakh if invested at 30 years of age and 1.63 Lakh if invested at 30 years of age. Assumed interest rate is 15% per annum.
Secret 4 – Late Start With High Amount Is A Loser
If you are someone who thinks that you can start investment late and catch up with higher amount of investment, then you are going to be surprised. Calculations show that people starting investments early even with a small amount will make higher corpus than those stating late with a higher amount.
For example, if Dubey ji starts a SIP of 1 Lakh per year from 18 years age and Choubey ji starts a SIP of 2 Lakh per year from 23 years of age, then Choubey ji will always play the catching up game in terms of corpus. Corpus at the age of 60 years will be 15.7 Crore for Dubey ji vs 15.61 Crore for Choubey ji. Assumed interest rate is 15% per annum.
Secret 5 – Double Interest Rate does not mean Double Corpus
While higher interest rates are always the preferred option, do not assume that double interest will mean double the corpus. In reality, as the interest rates increase, the corpus increases at a much faster rate (over long term).
For example, if you do a one time investment of 1 Lakh rupees in FD giving 7.5% interest and into MF giving 15% interest, then the corpus after 30 years will be 8.75 Lakhs for FD and 66.2 Lakhs for MF.
So now that you know the 5 secrets of Compound Interest, please use them to maximize your corpus and turn your Lakh into Crores. Remember that the best way to benefit from Compound Interest is to start early no matter how low your investment amount is and stay invested until your goal is met
Hope you liked this article. Please remember to share your feedback and comments.