In today's world, time is money. And when it comes to making online payments, convenience, ease and quickness is the buzz word. Earlier, entering your credit card details was a hassle which took lot of time. That gave birth to the process of saving card details and just entering CVV. But now even that looks time consuming because you enter your CVV, then go to payment page, enter OTP and again wait for payment confirmation. What if even this can be simplified further? Wouldn't it be so convenient to just click once and get the payment done? In today's blog, I will tell you exactly how you can make your life convenient by switching to 1 click payment. Say hello to Simpl. It is one app which can simplify your life and should be a must have on your mobile phone. And NO. This blog is not a paid blog.. This is my honest review after using Simpl app for more than 6 months.
What is Simpl
Simpl is a Buy Now Pay Later (BNPL) App which aims to simplify the way we do online payments. Instead of going through the payment options by entering card details, passwords or OTPs, it speeds up the process by doing payment on just 1 click for the merchants it has tied-up with.
What Simpl Does
Simpl app allows you to make 1 tap payments on different apps and websites. When you sign-up with Simpl, you are given a Credit Limit. You can do payments via Simpl upto this credit limit. If you have exhausted the credit limit, you will have to clear pending dues before using Simpl for new payments.
How Does Simpl Work
Payment via Simpl is achieved by linking merchants to your account using your registered mobile number.
So for example, you want to order stuff from Blinkit (formerly Grofers). On payment page of Blinkit, click on Simpl. For first time, it will ask your mobile number and OTP to link Blinkit as a merchant to your Simpl account. Second time onward, you can just click Simpl option on Blinkit page and that is it! Your payment will be completed within 3-5 seconds.
At Simpl end, your transaction will be added to pending bills (provided it is below the available credit limit. If it is above credit limit, your payment will be rejected) which you need to clear every 15 days.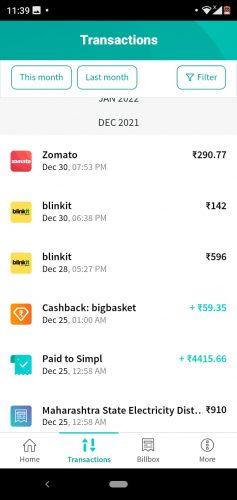 Payment Cycle
Bills are generated on two dates – 15th and 30th/31st of every month. And you get 5 days credit period to pay your bills. So 20th and 5th of every month will be your payment due dates.
Where all can we use it
One good thing which Simpl has achieved is to onboard good mix of both merchants and utility providers. So apart from using Simpl on popular merchants like Big Basket, Blinkit, Dunzo, Zomato, JioMart, Licious, Practo, Zoomcar, Meru etc, you can also pay your utility bills like Mobile & landline recharge (both prepaid and postpaid), electricity bill, gas bill (both cylinder and piped) , broadband and data card bill and DTH bill.
You can click here to see the entire list of merchants supported by Simpl.
What I like about Simpl
No Interest on Late Payment
Unlike credit cards and few other BNPL apps which charge late fees + interest on pending amount beyond due date, Simpl charges only Late fees. Below is the late fees charged by Simpl as per their FAQ page:
Late Fee Slabs (Inclusive of GST):
Bill amount (0 to 100): Fine of Rs 11.8
Bill amount (100 to 250): Fine of Rs 29.5
Bill amount (250 to 500): Fine of Rs 59
Bill amount (more than 500): Fine of Rs 118
The late is fee is applied at the end of every payment cycle if there are pending dues. So for example, your bill was generated on 31st and you had to pay until 5th. If you missed paying by 5th, late fees as stated above will be levied on 6th and this will be visible in the bill generated on 15th for which payment due date is 20th. If you do not pay this time also, another late fee will be levied on 21st.
Reduced Risk
Using Simpl also helps reduce the risk of leaking sensitive information related to net banking/credit card. So if you made 30 purchases in a fortnight via Simpl, you will have to enter net banking/credit card details only once (while clearing Simpl bill) instead of 30 times.
No Worries
I do not have to worry about my payments getting stuck or declined due to low account balance or wallet becoming empty.
Autopay of Utility Bills
The Billbox has autopay functions which can free up our mind and time from monthly on-time payments of various bills.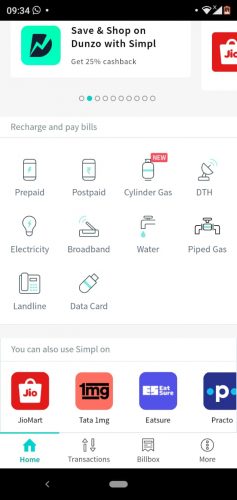 Simplicity and Ease of Use
While there are many BNPL solutions available in market now, the one thing which I love about Simpl is its focus on simplicity. Everything is so simple and easy to use – right from the clean and easy to navigate app to the user experience of doing payments.
Easy EMI conversion
For purchases made on few merchants, you can pay Simpl in 3 installments via their Pay In 3 feature. Think of it as an easy 3 months EMI.
Cashback
Simpl constantly keeps giving cashback on the transactions made via its app. This can be a good way to save money 🙂
How Simpl can be improved
Simpl should continue to focus on adding more merchants and giving more services to its users. Focus should be to let users buy everything online via Simpl.
For now, few major merchants I will like to see on Simpl are Amazon, Flipkart, Uber/Ola, BookMyShow.
Its Pay-In-3 feature should be improved by signing up with better known brands.
Simpl should also introduce a referral feature so that its existing users can spread the word and benefit out of it.
Cashback and incentives will always help attract more customers 😉
Thing to remember
If you are someone who constantly runs out of money or are have high chances of getting into debt trap, then BNPL or Simpl is not for you. You should stick to using your debit cards only for happy financial life.
Conclusion
While there are many other BNPL apps now in market like LazyPay, ZestMoney, ePayLater etc, I feel Simpl is more easy to use and does not fall into the trap of offering too many functionalities which confuse users. Simplicity, Convenience and Saving Time are the features which make it my favorite. Try it and let me know if you find it useful. Also please share if you know of other apps which you feel are better than Simpl 🙂
I also offer a financial consulting and can help you achieve your financial goals with proper planning. You can schedule a free consultation call to discuss your concerns and we can take it from there.