In my earlier article, I had explained why the American Express Platinum travel card is one of the best travel credit cards in India. Even with annual fees of 5K, the benefits far exceed the costs. And Amex is continuously sweetening the deal by regularly bringing new offers keeping its patrons happy.
Amex has now come up with a new spend based offer where eligible members will get Air India voucher of 5K on spending 1L within a month. Below are all the details of this offer.
Amex Offer Details
Spend 1 Lakh rupees via Amex card and get Air India voucher worth 5000/-.
Validity
Offer is valid for spends between 6th Jan 2021 to 5th Feb 2021.
Eligibility criteria
This offer is rolled out basis few eligibility criteria of Amex. If you are eligible, you would have received this offer via mail. Just check your primary mailbox for a mail from Amex.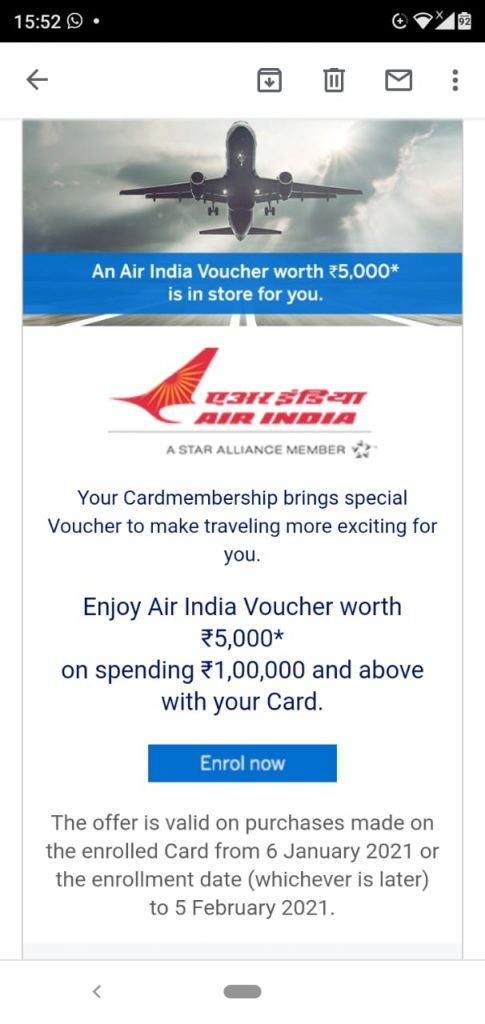 How to enroll
Mail has an enrolment link. Once you click on it, you will be directed to a page where you have to fill Amex card number, date of birth and captcha code.
Once the details are validated, you will be enrolled in the offer.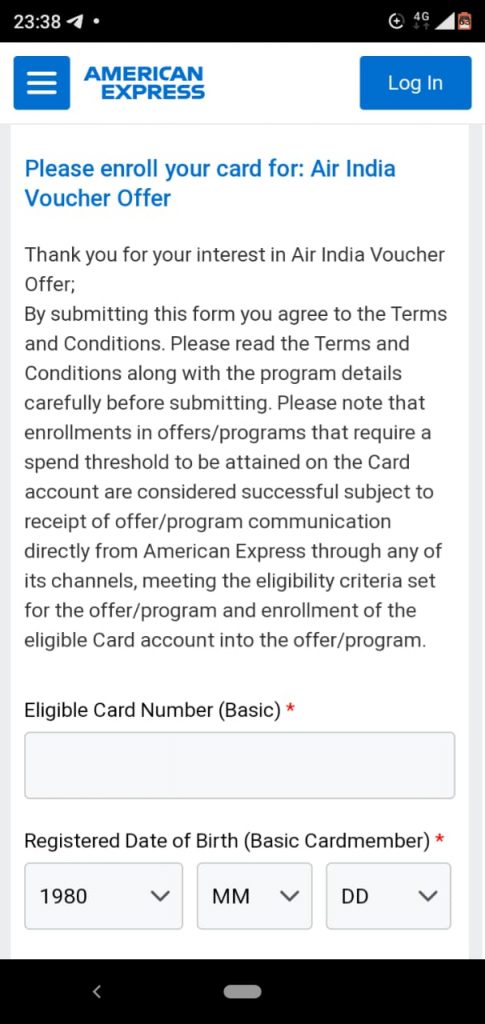 NOTE – you will get the voucher ONLY if you have enrolled and spend 1 L within this timeframe. If you do not enrol, you will not get the voucher even if you have exceeded the spend limit.
When will the voucher be issued
The voucher will be issued by 15th June 2021 and will be sent directly to the registered email id.
Validity of voucher
Air India voucher will be valid for 3 months from the date of issue on domestic and international routes. This 3 month is the flight booking date and actual travel can happen even after voucher validity expires.
How to use voucher
You will have to book via Air India website to use the voucher.
Terms and Conditions of using the voucher
Following conditions are mentioned for using the voucher:
Voucher cannot be used for E, S & T class of booking on Air India
The Voucher code once entered on Air India website for redemption will be considered redeemed and cannot be redeemed thereafter,

even if the transaction/booking is not completed.

Voucher can be redeemed only against base fare
In case the base fare amount is lower than the Voucher value, the Voucher

cannot

be used for the transaction
The Vouchers can be used for Air Bubble flights but not for flights listed under Vande Bharat Mission
Multiple Vouchers cannot be used in a single transaction
Anything else you should know
This offer is over and above the regular reward points you will be earning.
My thoughts
The offer looks tempting on paper. Spending 1L will give you benefits of 6K (5K of AI voucher + 1K on converting reward points obtained from 1 L spend) making the overall returns as 6%
However, I feel the T&C of this offer are harsh especially on the point related to #2 and #4. Not being able to reuse the voucher even if the transaction is not completed or not being able to redeem if fare amount is lower than the voucher value is a dealbreaker in my opinion.
Should you go for it
If you have any big purchase lined up in January and travel plan lined up for July or later, you should definitely take benefit of this offer. Else you may skip it.
Click here to apply for Amex card to get special joining benefit of 2000 Membership Rewards Points on spending INR 5,000 in the first 90 days of Card membership + Zero annual fees for the first year + Amazon Voucher worth 500/-. Offer valid till 28 Jan 2021
Liked this article? Join my Whatsapp group to be part of our community!
Other articles worth reading:
More on Credit cards => Free credit cards you should have to maximize savings
Like travel? Visit this snow valley in India to get feel of Switzerland!